How to get to Lake Lampackie
Lake Lampackie is located in the Warmian-Masurian Voivodeship in the Mrągowo Lake District. Access to the lake is provided by the national road No. 16, which runs at the northern end. This road leads from Olsztyn to Mrągowo. On our way to our destination, we will reach the village of Sorkwity. Here you can stop or go around the western side. On the eastern side there is also a road leading along Lake Lampasz and further through Grabowo to Lake Dłużec.
The lake is connected with the neighboring ones by streams. In the north there is Lake Gielądzkie, in the south – Lake Kujno and further Lake Dłużec. The Krutynia Canoe Trail runs through the lake – the longest and most interesting canoe trail in Masuria. In the south-east, the lake connects to Lake Lampasz and together they form a compact reservoir.
It is a typical gutter lake located longitudinally, narrow and deep. The area of ​​the lake is 198 hectares, the average depth is 11 meters and the maximum depth is 38 meters. There is a forested island in the southern part. The shores are quite high and overgrown with reeds. Only in the northern part there is a forest. The others are surrounded by fields and meadows. The lake is clean.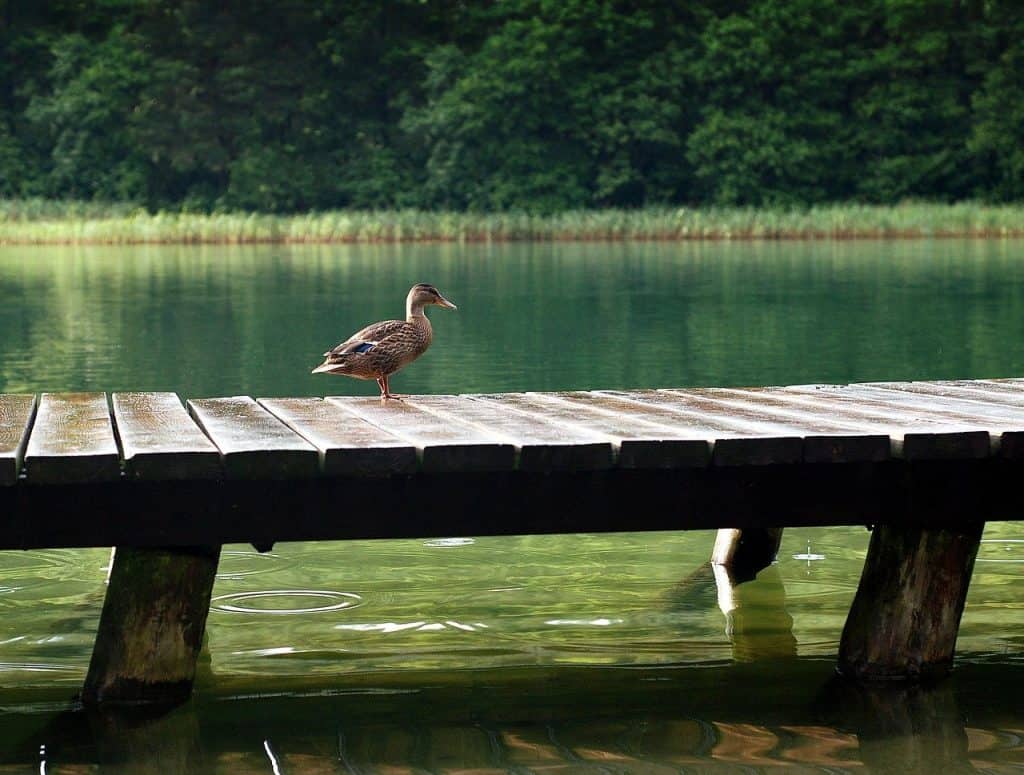 Lampackie Lake – accommodation
The main tourist centers are Sorkwity and Maradki. In Sorkwity there is access to the full commune infrastructure: shops, service facilities, health center, post office, restaurants and a church. There is also a neo-Gothic palace on the very shore of the lake, but it is a private area, not available for sightseeing. Right behind the palace is the PTTK riverside hostel. Maradki, on the other hand, is a typical tourist village with a few houses and agritourism farms and a bar.
Lampackie Lake – fish
There is a cormorant breeding colony on Lake Lampackie. You can also see ducks, herons and cranes. In terms of fishing, the lake cannot surprise you with a plus, unfortunately. The lake is under the management of the Fish Farm in Mrągowo. There you can also buy a permit at the fishing shop at ul. Warszawska 5. The group of fish is dominated by general fish, which "stick" to everything. This proves that it is very difficult to find a predator. However, you can choose places that will attract a large bream after appropriate baiting.
Summary
Lampackie Lake invites you to visit with clean water and the tranquility of the Masurian countryside. The lake is average for anglers, but definitely lets you calm down and recharge your batteries. It is also a good place to start a kayaking trip along the Krutynia trail.