How to get to the lake
Dłużec Lake is located in the Mrągowo Lake District in the Warmian-Masurian Voivodeship. The Sobiepanka River flows into the lake and Babięcka Struga flows out. These streams connect the lake with the neighboring streams. Lake Kujno is located in the north, and Lake Białe in the south. The lake is situated between the villages of Borowe, Rutkowo and Dłużec. The easiest way to get there is from Piecki to Dłużec or by the provincial road number 600 from Szczytno to Mrągowo.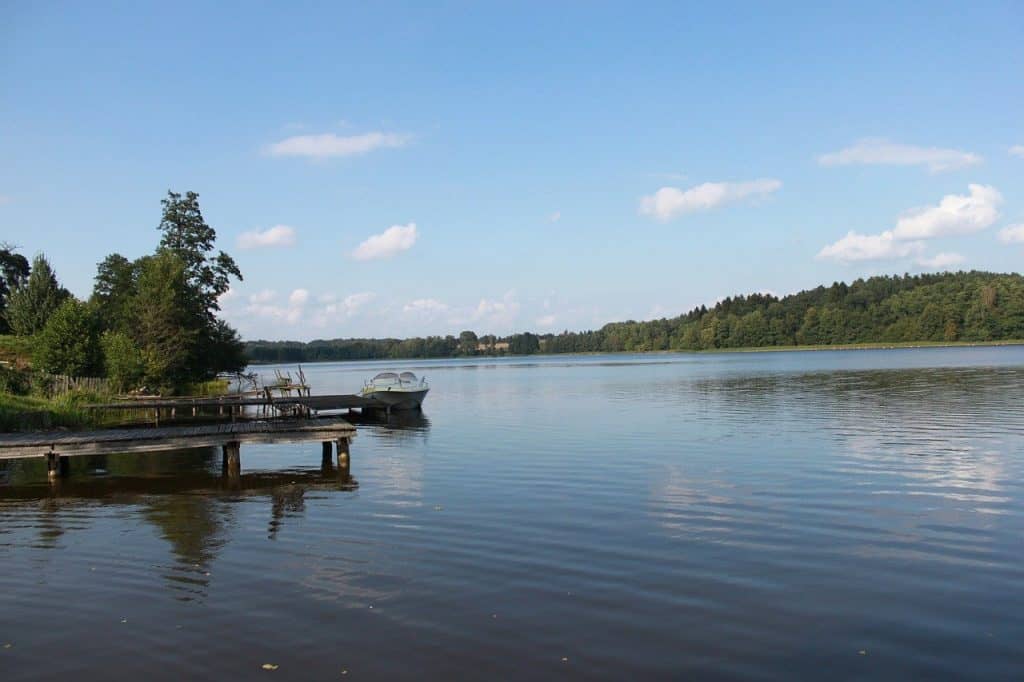 The area of ​​the lake is 123 hectares, the average depth is 6 meters, and the maximum is 20 meters. Dłużec Lake is situated in the area of ​​the "Sorkwickie Lakes" nature and landscape complex. Like many of the surrounding lakes, this is a gutter carved by the river and the glacier. There are small forests in the northern and southern parts, but most of the shores are used as fields and meadows. The areas of the villages of Borowe and Dłużec are largely focused on servicing tourist traffic.
Lake map
Accommodation by the lake
Dłużec Lake is a good tourist base, especially for people who follow the Krutynia trail. The reservoir is more accessible than the neighboring lakes, which is due to the close proximity to the provincial road. There are no big hotels or noisy tourist centers here. Accommodation is mainly provided by private accommodation in agritourism farms, private houses or holiday cottages. As the lake is located on the Krutynia trail, the hosts are focused on serving canoeists. Kayaks can be rented in many places. In almost every place where there is a descent to the water. Similarly with overnight stays. Many houses and guesthouses have direct access to the water and offer accommodation not only for those arriving by car, but also for those arriving by canoe. According to recent studies, the lake has the third class of water purity.
Fish and permits
Dłużec Lake is used economically by the Mrągowo Fisheries Farm, which also sells fishing permits. There is a silence zone in its area. This means that the motorized boat cannot be used. The lake is mainly home to fish such as: pike, bream, roach, zander, eel and tench. However, the pike should be the target here. There are a lot of them and they are usually well grown.
Summary
Dłużec Lake in the Mrągowo Lake District is a well-equipped base for tourists sailing on the Krutynia River. There is a large selection of houses and guesthouses here, but at the same time it is quiet as in a typical Masurian village. It is definitely a good place for holidays for people who like peace and uninterrupted nature.