Land of lakes, swamps and rivers
The main attraction of the Łęczyńsko-Włodawskie Lake District is about 68 lakes, the oldest in the Central European Lowlands. These are both glacial and karst lakes. Their exact number is difficult to determine, because some of them are slowly disappearing as a result of overgrowing and spreading of peat bogs. The largest lake is Lake Uściwierz (284 ha), the deepest is Lake Piaseczno (about 39 m).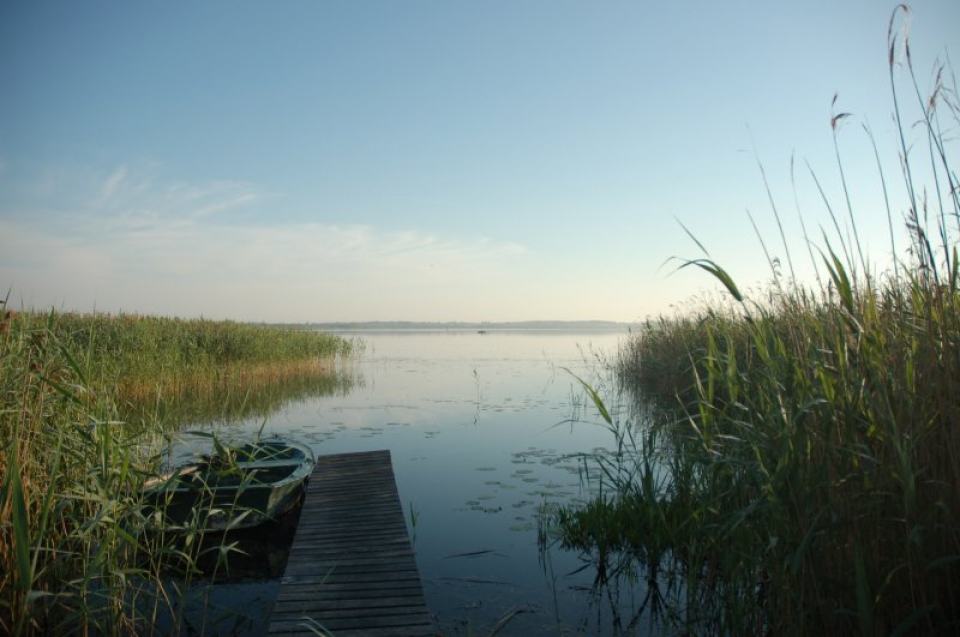 The lakes attract tourists with a picturesque location among forests, clean water and sandy beaches. The lakes with the greatest recreational values ​​include: Białe, Piaseczno, Rogóżno, Łukcze, Zagłębocze, Krasne, Rotcze. They provide opportunities for swimming, water sports and fishing. Numerous holiday resorts have been built on the lakes. Wild, overgrowing lakes are a paradise for waterfowl and many other protected species of plants and animals. The Świerszczów and Brzeziczno Lakes have been protected as reserves. The Łukie, Moszne, Kraśne and Długie Lakes are within the borders of the Poleski National Park. There are large pond complexes in the vicinity of Sosnowica, Pieszowola and Stary Brus. Fisheries are still managed on some of them to this day.
The occurrence of significant wetlands, which determine the Polesian nature of this area, is favored by the flatness of the area, which hinders the flow of water, as well as the shallow retention of the first groundwater level. During spring thaws or long rainfall, large areas are covered by water and they become almost inaccessible. Wetlands and peat bogs occupy a significant part of the area of ​​the Łęczyńsko-Włodawskie Lake District. It is an area of ​​exceptional richness of high, transitional, low peat bogs, as well as unique carbonate peat bogs (Bubnów Marsh). For this reason, this area is compared to a miniature of the European tundra and lasotundra, furthest in Europe to the southeast.
In order to protect the most valuable and characteristic wetlands, the Poleski National Park, Poleski Landscape Park, Łęczyńskie Lakeland Landscape Park, Sobiborski Landscape Park, Nadwieprzański Landscape Park, as well as numerous reserves and Natura 2000 areas were created in the 1990s. In 2012 Poleski National Park, Sobiborski Landscape Park, Łęczyńskie Lake District Landscape Park, Włodawskie and Parczewskie Forests became part of the Transboundary Biosphere Reserve called "Western Polesie", covering the territories of Poland, Belarus and Ukraine.
The Wierz, Bug rivers and their tributaries, which are a paradise for canoeists and anglers, also have a great impact on the tourist attractiveness of the Lake District. In order to regulate water relations, about 140 km of Wieprz-Krzna Canal was built in this area in 1954–1961.
The most popular Lakes of the Łęczyńsko-Włodawskie Lake District:
Białe Lake (area: 106 ha, depth: 33.6 m)
This is the most popular lake in the Lake District, located in Okuninka near Włodawa. It offers tourists a highlighted pier reaching 50 m deep into the lake. Along the beaches stretches over a kilometer promenade. Around 30 holiday resorts, hotels, restaurants, cafes, discos, water equipment rentals, karting bikes, decks, summer cinema, playgrounds, camping, campsites and catering establishments, as well as a rope park and bicycle path.
Lake Piaseczno (area 84.7 ha, depth 38.8 m)
An intimate lake surrounded by forests provides many attractions for vacationers. Tourists have at their disposal a holiday resort, a beach, a pier, water equipment rental, diving bases, as well as a sailing base with camping huts. In the vicinity of the lake you can play paintball, fly a paraglider, ride a bike along the bicycle path.
Łukcze Lake (area 56.5 ha, depth 8.9 m)
By the sandy beach by the lake there are two recreation centers offering accommodation in camping cabins, sports fields, catering facilities and water equipment rentals.
Krasne Lake (area 75.9 ha, depth 33 m)
Perfect for both bathing and fishing. On the lake there are two recreation centers with playgrounds, recreational and sports equipment rentals, a marina and catering facilities.
Rogóźno Lake (area 57.1 ha, depth 25.4 m)
The lake is a special fishery of the Polish Angling Association, a rare bream-vendace type. On the lake there is PZW Fishing Base with camping houses, a bar, a small beach, a pier and a playground for children. According to anglers, it is one of the most attractive reservoirs in this part of Poland.
Lake Zagłębocze (area 59 ha, depth 25 m)
The lake is located in the buffer zone of Poleski National Park. A recreation center with recreational equipment rental is located by the lake. The facility is surrounded by numerous food and beverage outlets.
Bialskie Lake (area 31.7 ha, depth 18.2 m)
A small lake in Białka near Parczew, liked by people looking for rest and recreation. On the shores of the lake there is a Hotel and Spa Polesie *** with a bowling alley and several recreation centers, recreational equipment rental.
Gumienek Lake (area: 8.1 ha, depth: 7.8 m)
An intimate lake in the town of Jedlanka Stara. A lakeside recreation center with an Indian camp and a rope park. Near the stud farm and fishery.
The article comes from the portal: http://www.turystyka-pojezierze.pl/