Lake Białka near Parczew is a great place for a holiday by the water, especially for those who like loud parties. It seems that this is the second most entertaining lake in the Łęczyńsko-Włodawskie Lake District after the Białe Lake. Basically, the lake is called Bialskie, and it is located in the village of Białka, in the Parczewski poviat. The nearest larger town is Sosnowica. Access to the lake is via district roads. The village can be reached from Ostrów Lubelski by road to Uhnin or from the other side. The third access leads from Sosnowica through Lubiszów, but it is not an asphalt road. The village itself has about 250 inhabitants. There are many more tourists during the season.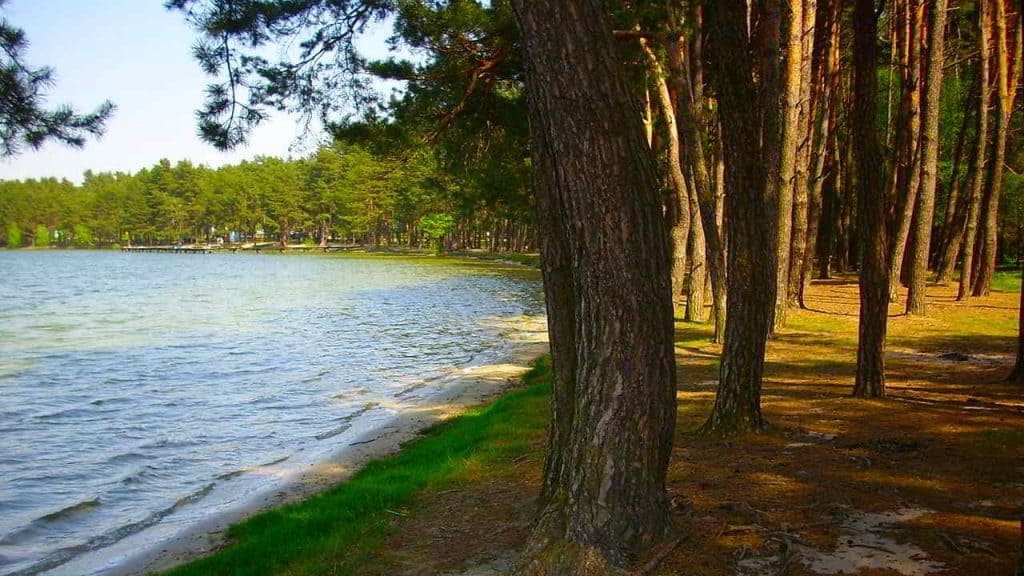 Lake Białka is one of the smaller tourist lakes. Its area is about 32 hectares, and the shape is almost circular. Thanks to this, the whole lake is visible from every point on the shore. However, for such a small lake it is quite deep. The maximum depth is 18.2 meters and the average depth is 6.8. Thanks to this, the water is clean and quite transparent.
Lake Białka has a large beach, which covers about 60% of the shoreline. In the southern and northeastern part it is a sandy beach, and the eastern part is forested to the water. Thanks to this, both those who like to lie in the sun and those who need a little shade will find a good place for themselves. The lake and the village are surrounded by a large forest. There are many forest roads, perfect for cycling. Nearby is also Czarne Lake (which has a beach) and many other unsuitable for tourists.
The infrastructure at Lake Białka is well prepared for a large number of tourists. You can sleep in one of several holiday resorts that offer cottages and campsites. There is also a hotel, as well as a large offer of houses and rooms for rent from residents. The village is clearly geared towards servicing tourist traffic. Bars, ice cream parlors and stands open in season, where you can buy everything you need on the lake. During this time, regular buses from Lublin station commute to Białka. Many bars organize parties until dawn. This is the characteristic feature of this lake. People go to bed late and it is loud. In addition, there may be more people at the lake in the evening than during the day. This happens especially on weekends when young people from Parczew and Sosnowica come here for events.
Fishing is possible for fishing card holders. There are so many people in the season that it's hard to fish here calmly. There are only two possibilities – the western shore overgrown with reeds or fishing from water. Fortunately, there are many bridges between the reeds and you can find a comfortable place. Among the fish that can be caught here are bream, tench, carp, roach, perch and pike. However, it is better to come to fish outside the holiday season.
Undoubtedly, Białka Lake has its charm. Many people have been coming here every year for 20 years. This is the result of clean water and good infrastructure. However, mainly young people rest here and those who were here for the first time in their youth.