Lake Zagłębocze is located in the Łęczyńsko-Włodawskie Lake District, in the Łęczna County, the Ludwin commune. The best access is from provincial road No. 820 (Łęczna-Sosnowica). Leave the road towards Łomnica, but actually the signs lead to Lake Zagłębocze. In the village of Zamłyniec turn south (signs for Lake Zagłębocze) into a concrete road that leads to a large car park at the lake itself.
The lake area is 59 ha, the average depth is 7.3 meters, and the maximum is 23 meters. The bottom of the lake is sandy, thanks to which the water is very clean (first class sanitary) and transparent. Water quality, good recreational conditions and infrastructure make it one of the most visited and highest rated lakes in the Lublin region.
About 30% of the coastline is occupied by the beach. The bottom is of course sandy, but the beach itself is mostly covered with grass. There are many pines on the very edge that provide a pleasant shade. However, lovers of lying in full sun will find something for themselves. The lake is surrounded by a path accessible to both pedestrians and cyclists.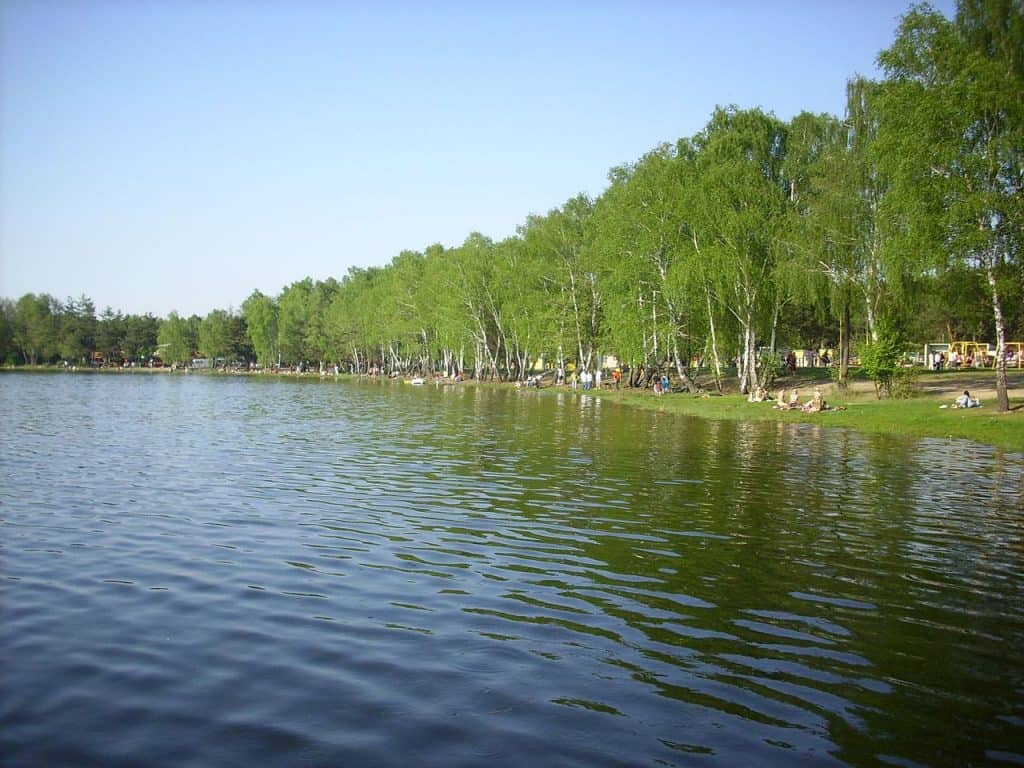 The lake provides the necessary infrastructure. In the northern part there is a camping site, where you can pitch a tent or put up a caravan, and in the eastern part is a holiday resort, which offers accommodation in cabins and a canteen. The gastronomic offer seems sufficient. At the passage leading from the car park to the beach and at the pier there are beach bars offering typical holiday cuisine, i.e. quick meals and beer. Discos and other noisy parties are unlikely to happen here.
If someone plans to combine leisure with fishing, this is a possibility. Lake Zagłębocze is a paid fishery. You must purchase a license to fish from the shore or from floating means. It can be purchased at the holiday resort on site or on the website of the PZW Zagłębocze Circle (www.pzw.org.pl/zaglebocze/). You can catch such fish as roach, bream, pike, tench, crucian carp, perch, zander, catfish, eel, carp. There are several piers along the shore and places where you can launch a boat. You don't have to go to the beach. There are many vacationers in the holiday season and fishing in their company may not be comfortable. Fortunately, there is plenty of space.
Lake Zagłębocze is one of the most pleasant lakes of the Łęczyńsko-Włodawskie Lake District. Undoubtedly, it owes its charm to clean water, good infrastructure and a great climate. Lovers of relaxing by the water will not be disappointed.