Lake Ukiel is located in the city of Olsztyn in the Warmian-Masurian Voivodeship. Ukiel is its official name, but it is commonly known as the Krzywe Lake. It is one of the biggest tourist attractions of the city and the entire Olsztyn Lake District. It is a place of relaxation and rest for residents.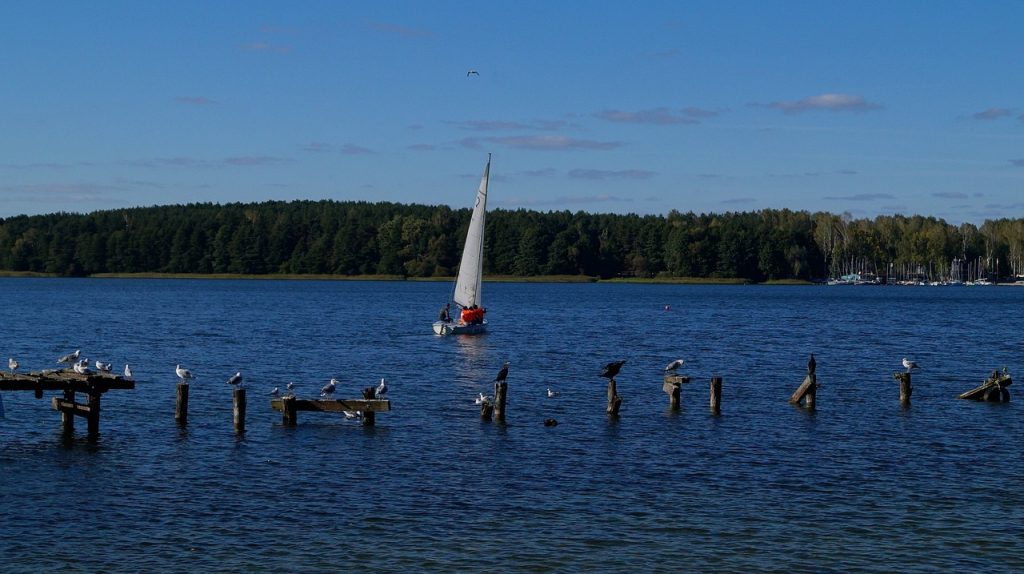 It consists of four bays connected by straits and has a total area of ​​412 hectares. The gutkowska (northern) part, surrounded by fields and housing estates, has an area of ​​about 118 hectares. It is commonly called the Copernicus Bay. The Transparent Pool, in the central part of the lake, with an area of ​​almost 85 hectares is surrounded by forests and arable fields. It is unofficially referred to as the Pacific. The coarse bay, called Swan Neck, has a similar size. The most southern part is the Olsztyn basin (colloquially called the Bay of Grunwald), with an area of ​​over 120 hectares and the most developed tourist infrastructure. There are places ideal for passive and active recreation.
Krzywe Lake is famous for its well-prepared city beach. Guarded beach, marina, water equipment rentals, inflatable playground, restaurants, cafes, ice cream parlors are just some of the attractions for beach lovers. Clean and tidy changing rooms, showers and toilets will provide comfort. Nearby there are spacious free parking lots (although in the high season they may not be spacious enough) with easy access to the beach.
Krzywe Lake will also satisfy those seeking a break from the city bustle. Around this huge lake there is no shortage of wild beaches with beautiful views. They will allow you to relax in peace, quiet and surrounded by beautiful nature.
Lovers of active recreation will not be disappointed either. The marina and water equipment rentals (kayaks, pedal boats, sailboats, rowing boats, etc.), pitches for team beach sports, as well as several walking and cycling paths around the lake make everyone find something for themselves.
Lake Ukiel will also please fishermen who are looking for a quiet place to vacation with a fishing rod. It is full of bream, perch and pike, and with a little luck you can catch a catfish or eel. However, the long shoreline, almost 23 km, and numerous bays make it possible to find a quiet place for fishing.
Picturesque areas and a variety of attractions mean that you want to come back many times in the Olsztyn Lake District and the city itself. Krzywe Lake is undoubtedly the perfect place for a great holiday in the country that will satisfy the tastes of the most demanding tourists.