How to get to Lake Narie
Narie Lake is one of the largest lakes in the Iława Lake District. It is located in the Ostróda poviat in the Morąg commune. Going to the lake from Warsaw or Gdańsk, take the S7 expressway in Małtydach towards Morąg. Tourism is concentrated in the southern part of the lake and it is worth heading here. The main destination of holidaymakers is the village of Kretowiny, but the neighboring places of Bogaczewo, Gulbity, Boguchwała, Pojezierce and Wilnowo also have a rich offer.
Narie Lake has a very varied coastline. It is full of larger and smaller bays. There are also 19 islands. The length of the coastline is 19 kilometers. The lake stretches in the longitudinal direction for up to 10 kilometers. It is 3 kilometers at its widest point, and 150 meters at the narrowest point. The water surface area is 1,240 hectares. The average depth is 9.8 meters and the maximum is 43 meters. The lake is clear. According to research from 2004, the tank was classified as class II clean. The danger was the discharge of sewage directly into the lake, but since 2006 a sewage treatment plant has been operating in Morąg, which collects waste from the entire vicinity of the lake.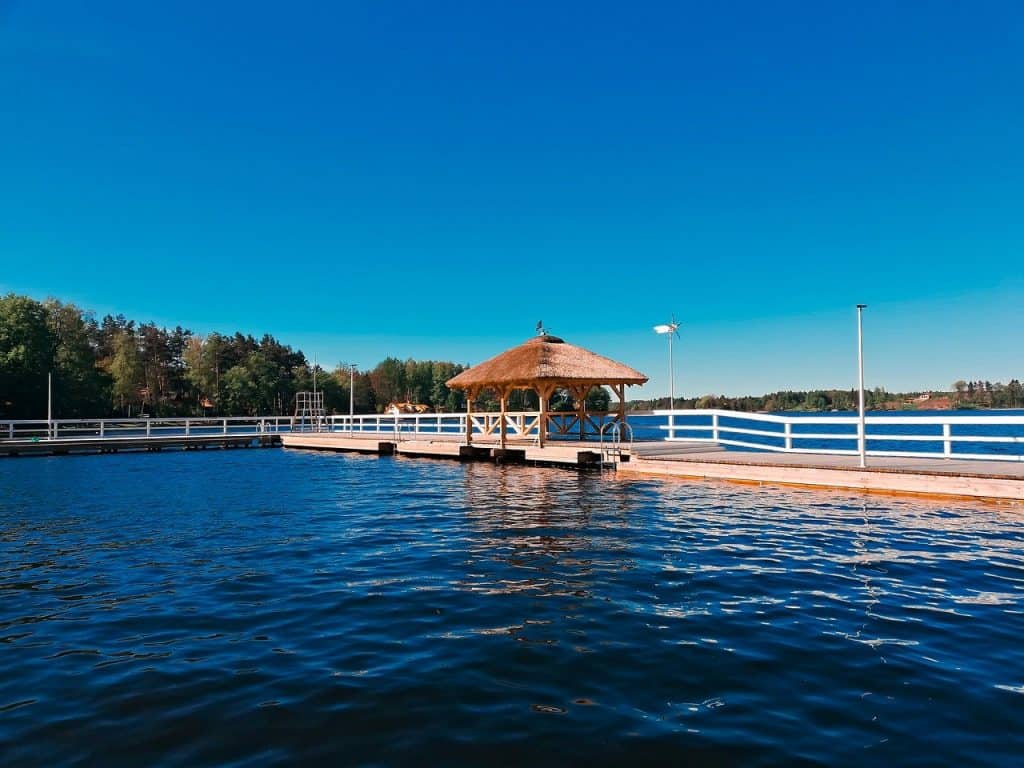 Accommodation at Lake Narie
The main tourist center is the village of Kretowiny. Both the village itself and the vicinity of the Kretowiny Peninsula live off tourists. The base is very well developed and offers centers of every class. There are both well-equipped centers aimed at demanding tourists and guesthouses for people expecting low prices. Undoubtedly, the peninsula is an ideal place for people who want to spend their holidays in company and expect a wide range of entertainment. People expecting more peace and quiet should choose Bogaczewo, Gulbity, Boguchwała, Pojezierce and Wilnowo. The tourist base is well developed. There is no problem to find a water equipment rental, a cheap bar or a good restaurant, beer gardens, fishing shops or a windurfing school.
Narie lake – fish
There is a quiet zone around Narie Lake and on it. This means you are not allowed to go there using a motor-powered boat. The host of the lake is the Fisheries Plant in Bogaczewo. There you can buy fishing permits. The Morąg Sailing Club "Keja" also has its seat in this town. In the lake you can catch fish such as: pike, zander, perch, tench, roach, whitefish. It also happens to be catfish and eel. Interestingly, there are also crayfish here.
Summary
Without a doubt, Lake Narie is the perfect destination for a holiday by the water. You can experience both silence and active entertainment here. Everyone will like clean water and lots of forests. The choice of houses and holiday resorts is so large that everyone will surely find something suitable for themselves.