Lake Olecko Wielkie is the eastern border for the city of Olecko. The city shore has been developed with respect for nature and the needs of its inhabitants. It is a good place for a cycling holiday due to the paths surrounding the lake.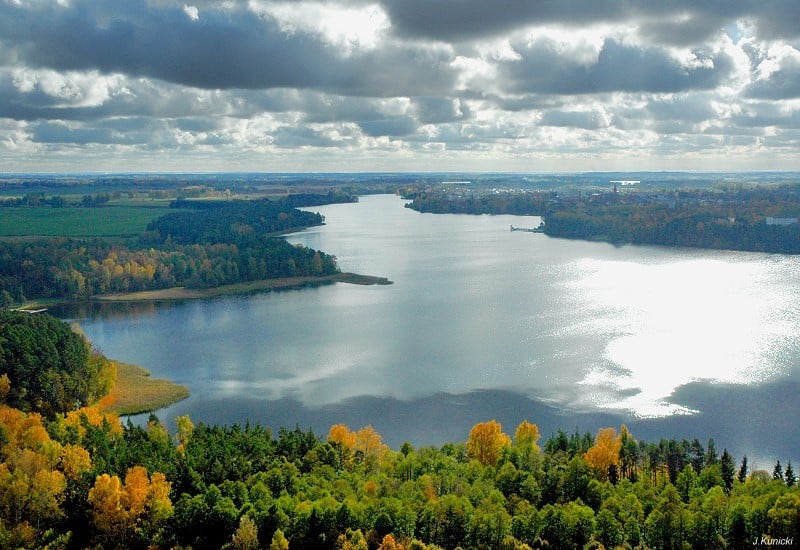 To get to the lake you have to go to Olecko. The opposite shore is occupied by forests and fields. There are no buildings there. But there is a path along the shore. Access to Olecko is provided by the national road No. 65 leading from Białystok to Gołdap. South of the city, the S61 expressway called Via Baltica is being built.
The lake has an area of ​​227 hectares. The maximum depth is 65 meters and the average depth is 20 meters. The Leda River flows through the lake and the Mrożanka River flows into it. The water in Lake Olecko Wielkie is classified as class II purity. The northern part of the lake is much wider than the southern part – called the Neck.
There are two public beaches by the lake. Both are managed by the city authorities. In the northern part, next to the city stadium, there is the city beach and the "Skocznia" swimming pool. In the south of the city there is a long beach called "Neck". There are car parks at both, and there is a lifeguard in high season. The city provides the necessary infrastructure for tourists. There are hotels, houses for rent and a few bars. However, it is not a typical tourist town.
The Squirrel Path, almost 13 kilometers long, runs along the shores of Lake Oleckie Wielki. The route of the "Squirrel Path" is varied and interesting in terms of landscape and nature. In a dozen or so places, there are stops with information boards, where interesting plant clusters or single specimens of trees and animals are described. The path is open to pedestrians and cyclists.
Human interference in the Lega river flowing through the Oleckie Wielkie Lake caused the eutrophication processes to accelerate. In the area between the piers of the Water Club and the shore of the lake bay, an attractor was formed, as a result of which sediments settle, and thus the lake overgrows. In recent years, the area covered with plants, especially reeds, has doubled. The non-freezing part of the lake where water birds spend winter has significantly decreased. In order not to worsen the condition of the environment, a modern sewage treatment plant was built, which has been operating since 1995.
Oleckie Wielkie is a lake of the whitefish type. There are bream, tench, roach, perch, pike, rudd, smelt, bleak, carp, sea trout, catfish, ruffe, eel and other species of fish. The host of the lake is the PZW Fisheries Farm in Suwałki. Fishing permits can be purchased in fishing shops in Olecko.