Czyste Lake is located in the Iławskie Lakeland, in the Iławski poviat. The lake lies within the Jasne nature reserve. That is why it is sometimes called Lake Jasne. The lake has 11 hectares, the average depth is 8.4 meters and the maximum depth is 19.8 meters. The lake is open to tourists, but sunbathing, swimming and fishing are prohibited because it is a nature reserve.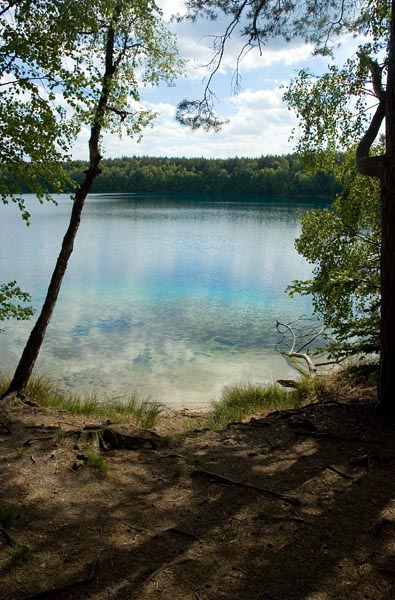 To get to Lake Czyste you need to get to the village of Jeziorno. You can get there from Iława by road 521 and turning to Siemiany. Coming from Gdańsk from the S7 express road, exit at the Małtydy interchange onto route 519 and in Zalew turn onto the district road towards Susz. Behind Jerzwałd is a turn to Siemiany. In Jeziorna by the road there is a small parking lot and the beginning of the shortest path to Lake Czyste. This route is about 600 meters and leads to a lookout point right on the water. You can also choose other paths from Januszew or Szwalew. They are all charming and interesting. However, they are longer and it is worth going on a bike.
Czyste Lake is unique in Poland. Is the most transparent. Even more than mountain lakes. The light reaches a depth of 15 meters, so the bottom is visible from almost the entire lake surface. This is because the lake is very acidic. It has a pH of 4.3. According to a 1995 water quality study, it had first class cleanliness. However, currently the criteria of the Chief Sanitary Inspectorate have changed and the lake is out of class due to acidification. It does not change the fact that everyone who has been here will say that this is the cleanest lake in Poland.
There are practically no plants in the lake itself except for a few species of algae and cyanobacteria. Dwarf perches occur here. They became cannibals because of poor food. You can find goldeneye on the lake's surface. Other animals avoid lakes and choose others with more friendly water.
Lake Czyste is not a place where you can spend the whole day. But those who like trips in the woods will be delighted and will find a long enough trail for themselves. For sure, those who chose the nearby Jeziorak Lake should come here for a few hours to see the cleanest lake in Poland.