How to get to Lake Białe
The Białe Lake in the Mrągowo Lake District is located in the Piecki commune. It is situated off the main tourist routes. Therefore, it is an ideal place for lovers of peace. The localities in the area are Goleń, Bieńki and Dłużec. There you should go in search of accommodation. The lake is located about 5 kilometers from the road connecting Szczytno and Mrągowo. You can also get there by the national road No. 16 leading from Olsztyn to Mrągowo.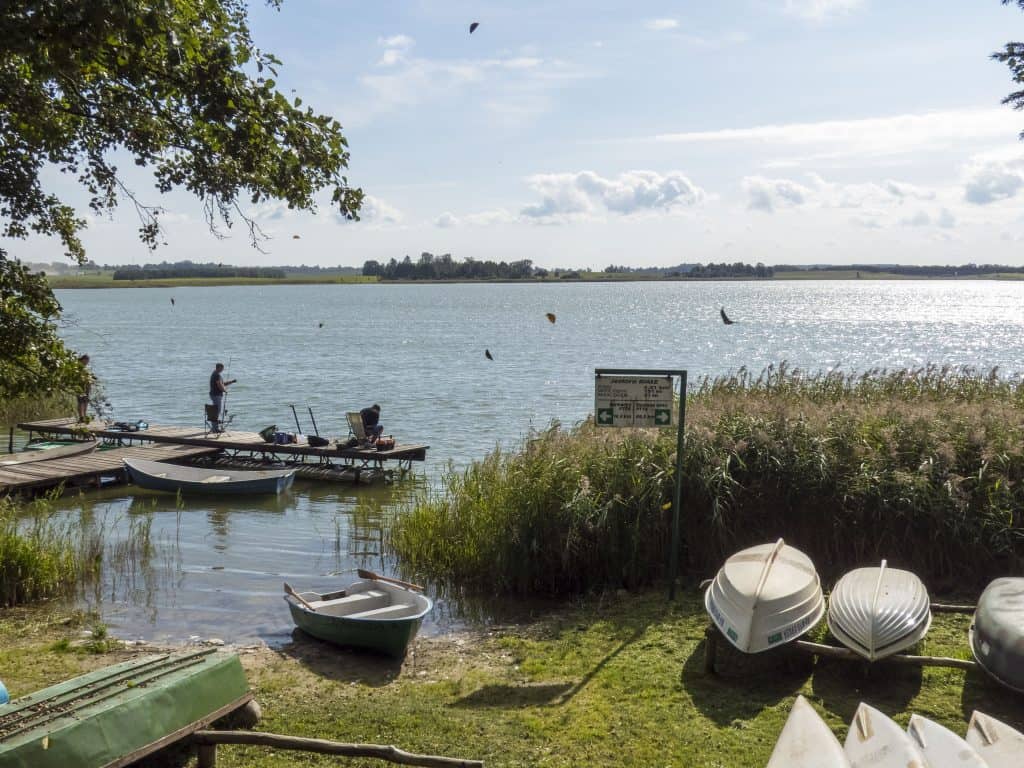 The Białe Lake is not often an end in itself. It is situated on the Kayak Trail of the Krutynia River. For this reason, it is often visited by canoeists. This trail is 91 kilometers long and is one of the most popular in Poland. It runs along the Krutynia River, which flows through many lakes also through the Masurian Landscape Park.
Lake Białe – map
The area of ​​the lake is 376 hectares. The maximum depth is 31 meters and the average depth is 7 meters. There are five islands on the lake with a total area of ​​18 hectares. The lake is connected with Lake Dłużec to the north and Lake Gant to the south. Most of the shores are covered with coastal vegetation. Due to the small number of tourists, there are not many beaches here and no one will build them. The ones that are there are grassy beaches. There are also many jetties that allow you to enter the water safely.
Accommodation at Lake Białe
There is no typical tourist destination at Lake Białe. The infrastructure is modest and you should act in advance when booking your accommodation. Many guesthouses and cottages operating here are focused on serving canoeists on the Krutynia trail. They are concentrated mainly in the north-eastern part of the lake. On the opposite side there is a campsite and PTTK hostel. However, for more supplies you have to go to Piecki.
Lake Białe – fish
The lake is looked after by the Fish Farm in Mrągowo. Fishing requires a permit sold by the farm. The lake is mainly home to fish such as: pike, bream, roach, zander, eel and tench. The lake is a quiet zone – motorboats cannot be used.
Summary
The Białe Lake is quiet and peaceful. It is located off the beaten track, far from large cities, but on the route of the Krutynia River Canoe Trail. It is a good place to stop or spend the night while relaxing on a kayak.