Piłakno Lake is located in the Warmian-Masurian Voivodeship, in the Mragowo County, in the Sorkwity Commune. It is located in the Mrągowo Lake District in the basin of the Krutynia River. The water area is 262 hectares. The average depth of the lake is 12.9 meters, while the maximum depth is 56.6 meters, which makes it one of the deepest lakes in Masuria. The Piłakno Lake consists of two clearly developed plos. The south-western bay, with the greatest depression reaching 16.5 m, is divided in half by a large peninsula. In addition, there are several shallow waters on the lake where the vegetation protrudes above the water surface. It has a well-developed shoreline, covered with reeds and rushes almost all around it. The lake is classified as class II cleanliness, and the water transparency is very high. For this reason, it is a good place for diving training.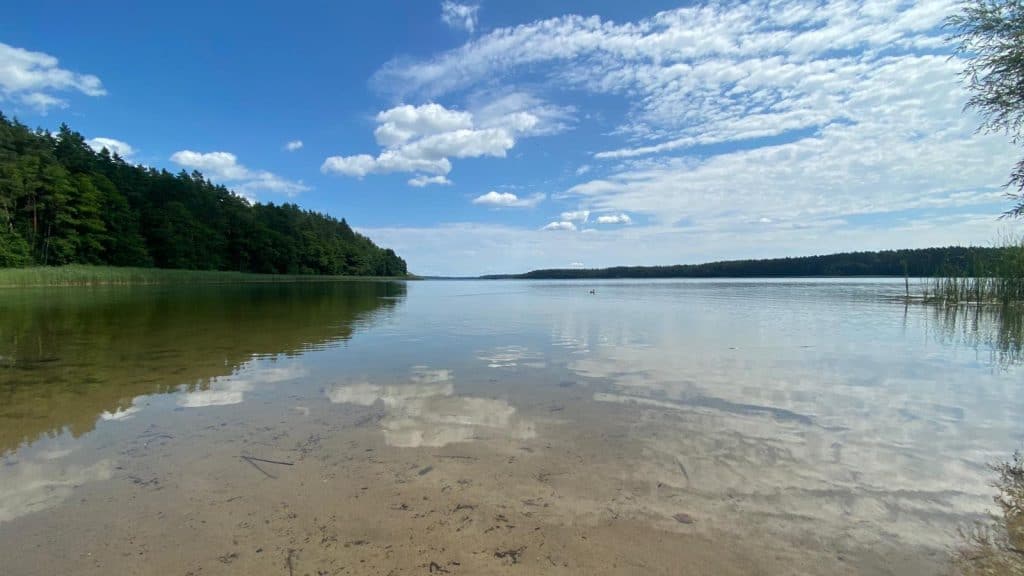 Access to the Piłakno Lake is provided by the provincial road No. 600, which connects Szczytno with Mrągowo. There are 12 lakes along the way, but this is the most attractive for tourists. This road is quite narrow for a road of this class. Alternatively, you can choose the national road No. 16 from Olsztyn to Mrągowo and in Sorkwity turn to Rozogi. The west shore is covered with forest. The fields are also fragments. All tourism is focused on the eastern and northern sides.
Due to the good access and very clean water, the lake is chosen by holidaymakers. However, there is not a single public beach here. Accommodation is provided by holiday resorts. There are five of them here and additionally a campsite. The centers are quiet and encourage relaxation with family and friends. The campsite is louder and surprisingly there is no curfew here.
The lake is a quiet zone, so motor boats are not allowed. The lessee of the lake is the Mrągowo Fisheries Farm. In addition to the fishing card, an additional permit is required. The list of points of sale is available on the farm's website. Due to the sharp slopes of the bottom, the lake is not an easy fishing spot near the shore. The bottom is very varied, which can be seen on the echo sounder. Numerous faults and shallow waters are attractive for fishing. Classically, underwater extensions of numerous promontories are quite good fisheries for perch and pike. The species composition of fish includes such fish as catfish, whitefish, pike, perch, pike perch, tench and eel.
Piłakno Lake is a beautiful and quiet lake in the Mrągowo Lake District. Beautiful forests and crystal clear water invite you to linger. Here you can really relax and collect your thoughts.