Łęsk Lake occupies a typical longitudinal gutter. Like many other lakes in the Mrągowo Lake District, it is long and narrow. The water reservoir exchanges waters with Lake Łęczek in the south. Both are connected by a canal about 20 meters wide, but largely overgrown with emergence vegetation.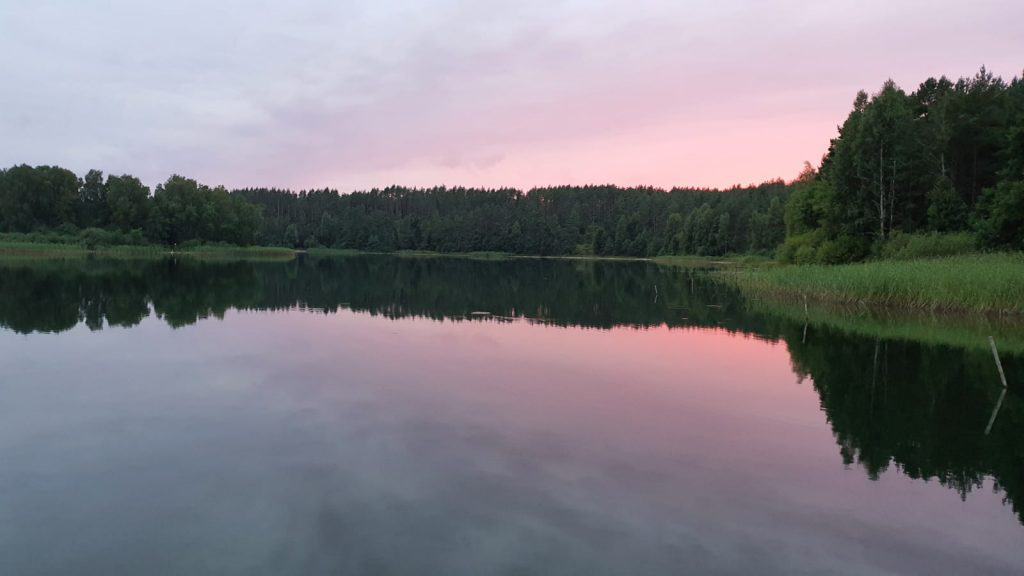 When going to the lake, it is best to head to Orzyn. This small town is located on the provincial road No. 600, which connects Szczytno and Mrągowo. You can also go from the national road No. 58 connecting Szczytno and Pisz, but it is a forest expedition along a gravel road. To get here, take the national road northwest along the fence of military unit 2669.
The lake has an area of ​​116 hectares. The maximum depth is 39 meters and the average depth is 11 meters. The coastal shoal is very short and the slopes of the bottom come down steeply from both sides. Only in the southern part the bottom slopes more gently. The bottom is mostly sandy and gravel-sand, only a few shallower places are silted. The emerged aquatic vegetation occurs in the coastal parts of the lake, along its shores and near the island. The same is true for soft vegetation. The most common places to see are Canadian marsh and knotweed, which in some places create wonderful underwater meadows.
Łęsk Lake has always been famous for its good water transparency, which is why divers like it. The lake has the first class of purity. The water is quite clear and well-oxygenated throughout the year, but sometimes in the middle of summer the visage does not exceed 2 meters, other times it is 8 meters. Łęsk Lake is famous for its interesting clay wall. It is an area for experienced divers.
The lake attracts mainly divers. They mostly spend the night in holiday resorts located on the western shore of the lake. However, the northern end in Orzyny is also developing. New holiday homes are built here. For the most part, they are individual, but rental offers can often be found. There is a communal beach in Orzyny. It is the only generally accessible place for swimming. There is a pier, a parking lot and there is a lifeguard here. However, other infrastructure is missing. Even the exit from the main road is not marked. Łęsk Lake is a beautiful and clean lake, but it will be appreciated by those who do not need comfort, but silence.
The fishing user is the fishing farm Kompania Mazurska Pasym Sp. z o.o. Although the lake has a whitefish character, whitefish and whitefish are found only in traces. The main species of fish that occur here are bream, roach, perch, pike, silver bream, bleak, rudd, eel, burbot and other less numerous. There is a silence zone on the lake.