Mielno Lake in the Olsztyn Lake District is one of 14 lakes with this name in Poland. It is the largest of them all – it has an area of ​​365 hectares. The lake fills the glacial gutter. It is long – it is 8.4 kilometers long. The width varies from 150 to 900 meters. The maximum depth is 40 meters and the average depth is 12 meters. There are three large islands in the water where cormorants nest. The banks are high, the southern one is completely forested, the northern one only in places. The rushes are compact and wide only in the eastern basin, below the village of Waplewo.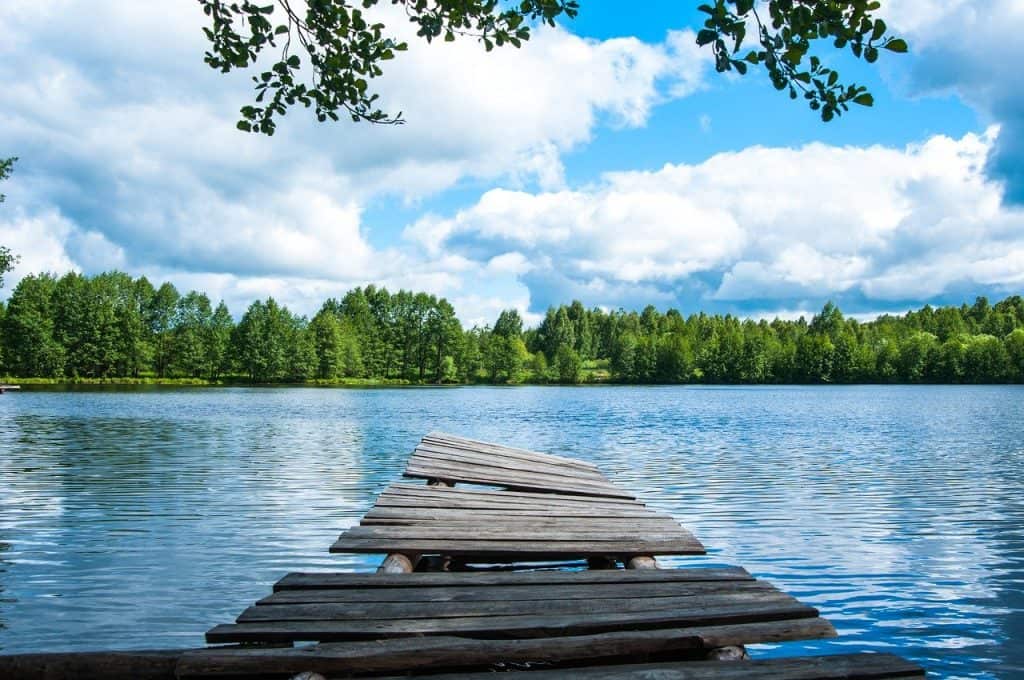 Access to Lake Mielno is provided by the S7 expressway. You can exit at the Waplewo junction and head to the lake in the direction of Jadamowo or take the Grunwald junction, turn onto the provincial road No. 537 and go to Mielno. Apart from these two places, almost the entire northern shore is occupied by holiday houses and boarding houses. There are no buildings at all on the southern shore.
The main tourist destination is Mielno. Here is the only public beach on the lake. Of course, there is a large parking lot, a pier separating the part for small children, several jetties for fishing. There are recreation centers, campgrounds, water sports equipment and restaurants here.
The lessee of the reservoir is the Szwaderki Fisheries Farm. Permits can be purchased at the headquarters of the Farm in Szwaderki and in the fishing shop in Olsztynek, as well as online. In Mielno, the Marózka River flows into the lake, greatly fertilizing its waters. The bottom at the mouth is silted, the depth drops more slowly and there are many fish here. Roach, tench and eel dominate. There is a lot of asp, a big perch and also a pike. Pike is not found in abundance, but at any time a spinning angler should reckon with taking a one-meter giant.
Lake Mielno is easily accessible due to the short distance from the main road. Nevertheless, it is still little changed by man. The small number of houses and hotels means that you can relax here in silence, admiring cormorants. It is also a good place for lovers of fishing.