Kazimierz Dolny is one of the most famous tourist and holiday resorts in the country and abroad.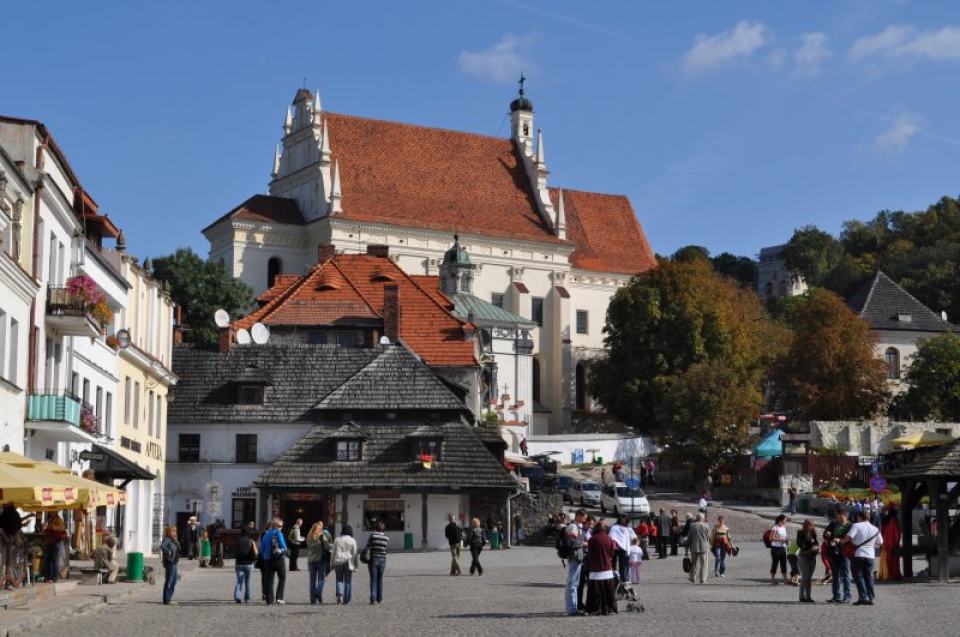 A city in the province Lublin in the Puławy poviat, on the Vistula, in the Lesser Poland Vistula Gorge, in the western part of the Nałęczowski Plateau. It is historically located in Lesser Poland (initially in the Sandomierz region, then in the Lublin region). Is the seat of the urban and rural authorities of the Kazimierz Dolny commune. Part of the tourist triangle: Puławy – Kazimierz Dolny – Nałęczów. The beginnings of the settlement date back to the 11th century. On one of the hills there was a settlement called Wietrzna Góra, belonging to the Benedictine order. In 1181, Casimir the Righteous gave the settlement to the Norbertine nuns from Zwierzyniec near Kraków. Norbertine women changed the name of the settlement to Kazimierz (the name of the donor). The name was noted in the chronicles for the first time in 1249, and the adjective "Lower" was added in later years to distinguish the settlement (in the lower course of the river, although in fact it is the middle course).
The foundation of the city and the construction of the defensive castle are legendarily attributed to Casimir the Great. Civic rights were granted in the first half of the fourteenth century. In 1406 Władysław Jagiełło established the city on Magdeburg rights. The market and streets were marked out, plots were designated for construction. Only the northern part of the market was left without buildings. Thanks to this, until today the market is open to the parish church and castle, which view is admired by painters and tourists. From the end of the 19th century Kazimierz Dolny became a holiday resort. Villas and guest houses for vacationers, mainly from Lublin and Warsaw, began to be built in the surrounding gorges. On April 27, 1979 (based on the design of the Institute of Nature Conservation of the Polish Academy of Sciences in Kraków) the Kazimierz Landscape Park was created here. On September 8, 1994, the Kazimierz historic complex was recognized as a monument of history by order of the President of the Republic of Poland Lech Wałęsa.
Monuments:
parish church of St. John the Baptist and Saint. Bartholomew – built in 1586–1589,
church of st. Anna from 1671 and the hospital of St. Spirit for the poor with a Mannerist gable from 1635, the Church of the Annunciation of the Virgin Mary from 1589 and the Reformed Monastery from 1638–1668. castle in Kazimierz Dolny – the ruins of the lower castle from the 16th century,
defensive tower – preserved from the upper castle from the 2nd half. 13th or 14th century,
tenement houses (at the Market Square) with mannerist decor from around 1615 belonging to the Przybyłów brothers,
synagogue in Kazimierz Dolny.
The article comes from the portal: http://www.turystyka-pojezierze.pl/